Wagon rides
Wagon rides for young and old
We have been offering covered wagon trips in the Meinweg area since the early 1990s. The traditional horse-drawn wagon rides are suitable for adults as well as younger generations. Enjoy one of the most beautiful nature parks in the Netherlands by covered wagon, and discover what the Meinweg area has to offer!
Book a covered wagon in one of our restaurants! Also nice in combination with an arrangement in our restaurants. See below the packages with covered wagon!
Arrangements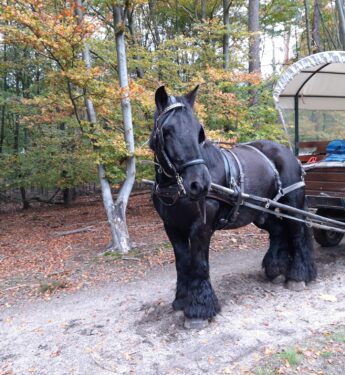 Huifkartocht
Huifkartocht
Reserveer een huifkartocht voor 1 uur. Kosten per huifkar 1 uur €110,-
Maximaal 18 personen per huifkar! Dit geldt als combinatie voor kinderen als volwassenen, het maximale aantal samen mag dus 18 personen zijn. Geschikt voor rolstoelen. (maximaal 2 rolstoelen per huifkar) Wij kunnen maximaal met 1 huifkar tegelijk vertrekken. Mocht u meerdere ritten willen dan moeten deze dus achter elkaar. Hier zit altijd een kleine pauze tussen.